---
Wednesday, 21 August 2013
Englefield
Today, emboldened by a bright sky and a cooling breeze, I strike out in an easterly direction. After ten or fifteen minutes walking I reach the vast estate of Englefield, the name of which is thought to commemorate a short-lived victory against the Danes by the Anglo-Saxons under Æthelwulf of Berkshire on the last day of December 870.
871. Her cuom se here to Readingum on West Seaxe, ⁊ þæs ymb .iii. niht ridon .ii. eorlas up; Þa gemette hie Æþelwulf aldorman on Engla felda, ⁊ him þær wiþ gefeaht ⁊ sige nam; Þæs ymb .iii. niht Æþered cyning ⁊ Ælfred his broþur þær micle fierd to Readingum gelæddon, ⁊ wiþ þone here gefuhton, ⁊ þær wæs micel wæl geslægen on gehwæþre hond, ⁊ Æþelwulf aldorman wearþ ofslægen, ⁊ þe Deniscan ahton wælstowe gewald.

—The Parker MS. of the Anglo-Saxon Chronicle
In more recent years Englefield House has acted as a film double for Ditteridge Hall in episodes of the 1990s Jeeves and Wooster TV series, for the X-Mansion in the 2011 X-Men film prequel, and for Satis House in last year's film adaptation of Great Expectations. Today (and up to the end of September) the grounds are closed to the public for the filming of some costume drama or other, and I am challenged more than once as I saunter up the stately driveway; but I have my eyes on the steeple of the Norman church of St Mark's that sits in the middle of the estate, and the footpath to the church remains outside the jurisdiction of mere film crews.
View of St Mark's Church from the driveway to Englefield House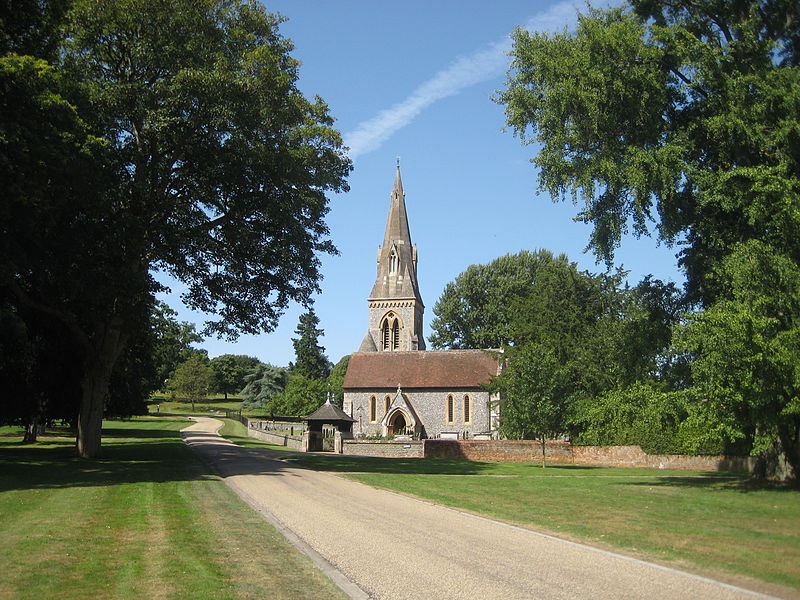 Alas, when I arrive, I find the House of God unexpectedly locked and bolted, and I am unable to gain access to the inside of the church, which I know (from when I was first here a couple of weeks ago, but cameraless then) has a number of very fine memorials and grave stones. Despite the stern warning pinned to the noticeboard of the south porch not to film or take photos of the interior without permission of the Resident Priest and the Parochial Church Council, I will return with my camera another day when the entrance is not locked.
---
It rains.
---
The weather is fine again, if a little cloudy, and at noon I head out for Englefield once more. This time the path from the main entrance is closed and guarded due to filming taking place nearby, on or around the driveway, and I am advised to approach the church from The Street (the road that runs from the northeast through the estate into the feudally enclosed Englefield village). As I part I casually ask the guard what is being filmed, but he is unwilling to say — all I can tell from the direction signs put up for the benefit of the film crew is that the production company is TGLE, known for monster movies such as Jurassic Attack, Poseidon Rex and Avalanche Sharks. I probably won't have time to walk all the way round to the street, but after a couple of hundred yards I hit upon a shortcut along a public footpath across the fields, and in ten minutes I am walking through the little village, with what sounds like sporadic gunfire echoing from where the filming is taking place.
I am allowed through a checkpoint at the end of The Street to get to the church, and today I find a great iron key in the door lock. After some fumbling and confusion over which way the door opens, I gain entrance. The interior is not as fine as I remember it, but there are a number of interesting-looking monuments, including two medieval effigies set in the south wall [Arundell Esdaile, English Sculpture in some Berkshire Churches (Part II, 1942) p. 89]. The unnamed knight is perhaps William de Englefield, who was Sheriff of Devonshire and later an itinerant justice during the reign of Henry III [Edward Foss, The Judges of England (London, 1848) vol. II pp. 318–319].
Stone effigy of a knight, circa 1280 [full image]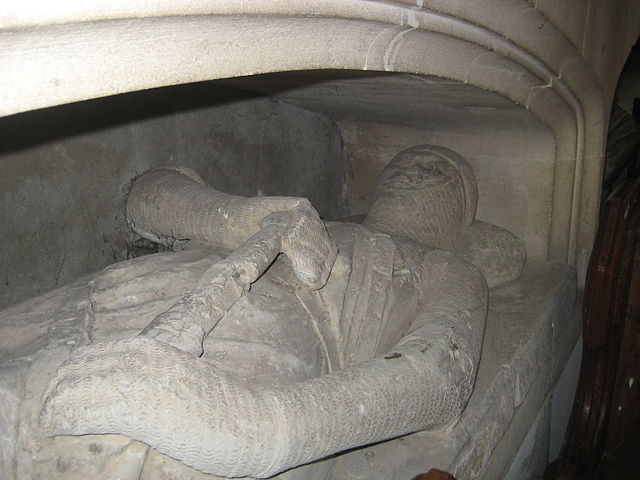 Wooden effigy of a lady, circa 1320 [full image]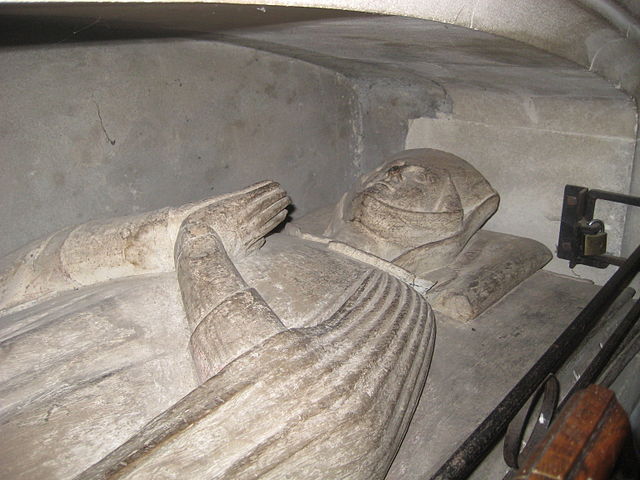 In the Lady chapel is a very fine marble monument to John Englefield (d. 1567), set up by his widow Margaret Fitton (d. 1612) in 1605. Margaret was one of six daughters of Edward Fitton the elder (1527–1579), and an aunt to Mary Fitton (1578–1647), who some believe to be the "Dark Lady" of Shakespeare's sonnets.
Detail of a Monument to John Englefilde, 1605 [full image]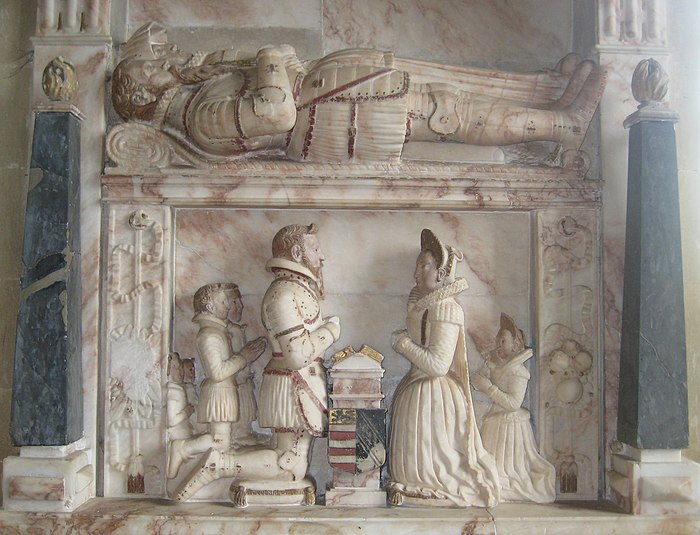 Heere lyeth bvried Iohn Englefilde Esqvire second Sonne to Sir Thomas Englefilde
Knighte whoe had to wife Margaret Fitton davghter to Sir Edward Fitton of Gavse
worth by whome he had one only Childe named Francis yet livinge whoe maried
Iane eldest Sister to Anthonye nowe Vicovntt Movntagewe and had issve by
hir fower Sones and one Davghter The saide Margaret after shee had lyvid Widdow
thirtie :8: yeers cavsed this Monvment to be made in the Yeere 1605 in remem:
brance of hir saide Hvsband whoe dyed the :1: daye of Aprill in the yeer 1567
John Englefield's elder brother, Francis Englefield (c.1522–1596), was a courtier under Queen Mary, and he went into exile on Elizabeth's accession to the throne. As an ardent supporter of the restoration of Roman Catholicism in England, he was declared an outlaw in 1564, and his estates, including Englefield House, were nominally confiscated. After John Englefield died in 1567, his widow and son (Francis Englefield (c.1561–1631), who in 1611 was made 1st Baronet of Englefield) continued to live at Englefield House until 1585 when the estate was seized. They then bought the estate of White Knights in Reading (now the main campus of the University of Reading), where the Englefield family lived until 1798. However, principal members of the Englefield family continued to be buried at the ancestral church in Englefield until the 7th Baronet of Englefield died without an heir in 1822. The floor of the Lady chapel is carpeted with 17th and 18th century gravestones of various members of the Englefield family, only a few of which I captured pictures of :
Anthony Englefield (d. 1667) and his son Anthony Englefield (1637–1711). The former was the fifth son of Francis Englefield, only son of the aforementioned John Englefield and Margaret Fitton. The latter was a mentor to the young Alexander Pope (1688–1744), who described Englefield as "an extremely witty man, the delight of my youth".
Anthony Englefield (c.1661–1672), eldest son and one of seventeen children of Anthony Englefield (1637–1711) and Anne (daughter of Thomas Stokes). Of their ten sons and seven daughters, nine sons and four daughters died without issue, but the family line was carried on by the fourth son Henry, who married Catherine Poole.
Mary Englefield (d. 1682), wife of William Englefield (d. 1662), sixth son of Francis Englefield.
Benjamin Poole (d. 1726), father-in-law of Henry Englefield, aforementioned fourth son of Anthony Englefield. Henry Englefield and Catherine Poole had nine children, three sons and six daughters.
Gravestone of Anthony Englefield (d. 1667) and his son Anthony Englefield (d. 1711)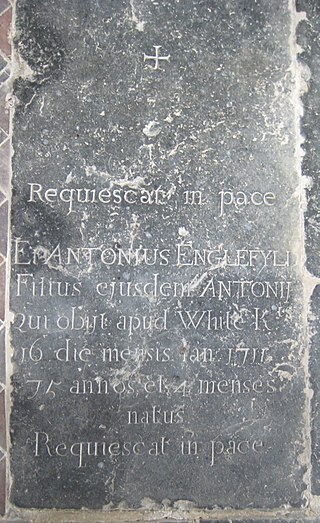 ANTONIVS ENGLEFYLD
1667
☩
Requiescat in pace
Et Antonius Englefyld
Filius ejusdem Antonij
Qui obijt apud White Kts
16 die mensis Ian 1711
75 annos et 4 menses
natus
Requiescat in pace
Gravestone of Anthony Englefield (d. 1672)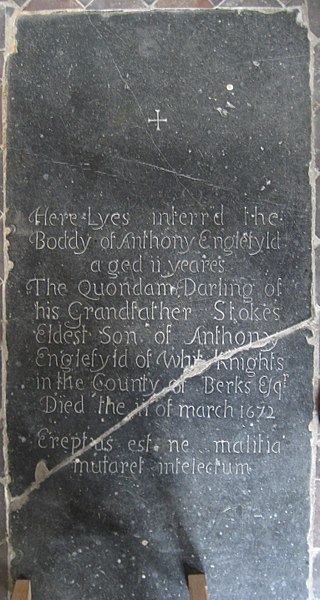 ☩
Here Lyes interr'd the
Boddy of Anthony Englefyld
aged 11 yeares
The Quondam Darling of
his Grandfather Stokes
Eldest Son of Anthony
Englefyld of Whit Knights
in the County of Berks Eſqr
Died the 11 of march 1672
Ereptus est ne malitia
mutaret intelectum
Gravestone of Mary Englefield (d. 1682)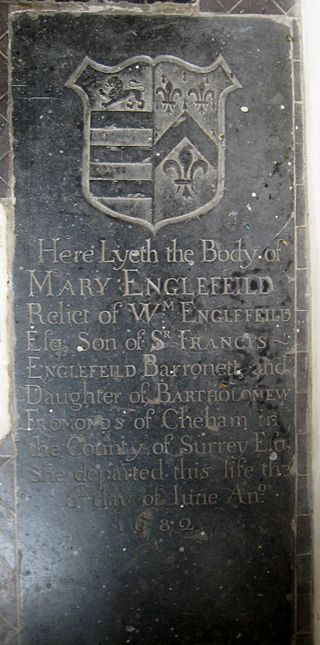 Here Lyeth the Body of
Mary Englefeild
Relict of Wm Englefeild
Eſq Son of Sr Francis
Englefeild Barronett and
Daughter of Bartholomew
Fromonds of Cheham in
the County of Surrey Eſq
She departed this life the
6 day of Iune Ano
1682
Gravestone of Benjamin Poole (d. 1726)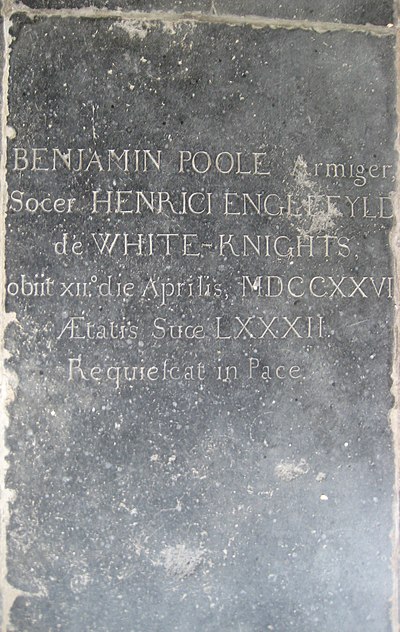 BENJAMIN POOLE Armiger,
Socer HENRICI ENGLEFYLD
de WHITE-KNIGHTS,
obiit XIIo die Aprilis, MDCCXXVI
Ætatis Suce LXXXII
Requieſcat in Pace
After her husband's death, Catherine Englefield married Edward Webb, and they had a son, Anthony Webb (c.1673–1748), who is buried in a large stone tomb in the graveyard (outside the church as he is only a step descendant of the Englefields). Next to Anthony senior's tomb is the gravestone of his son, Anthony Webb junior (d. 1755).
Tomb of Anthony Webb (d. 1748) and Mary Webb (d. 1750)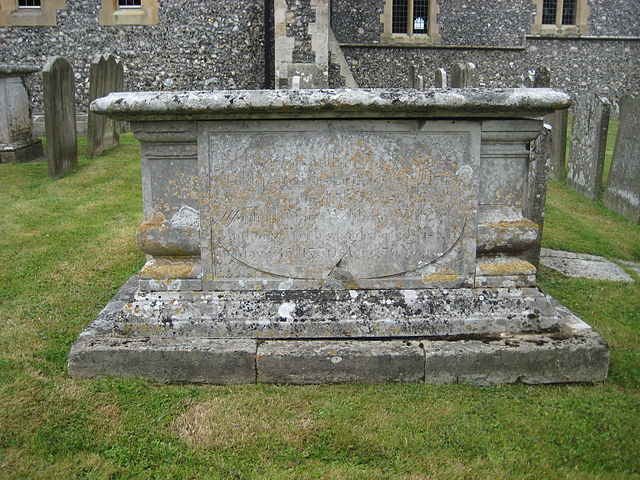 Here lieth the
Body of Anthony Webb Sen.
who departed this Life Nov ye 18 1748
Aged 75 Years.
Alſo lieth Mary Webb the Wife of
Anthony Webb who departed this Life
May ye 15th 1750 Aged 79 Years.
Gravestone of Anthony Webb (d. 1755)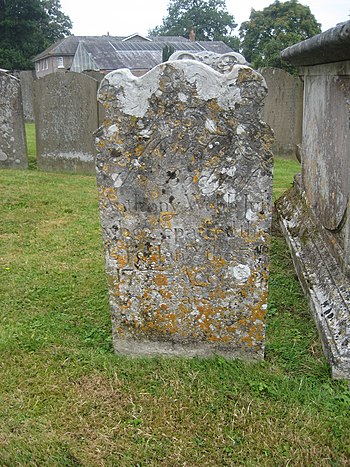 Here lies
the Body of
Anthony Webb Jun.
who departed this
Life Janry the 3rd
1755 Aged [??]
Years."
Back inside the church, on the north walls are two wooden plaques recording charitable donations, one of which is a gift of £100 to apprentice poor children, given by the church wardens Anthony Webb and Richard Breymore in 1731. This Anthony Webb is no doubt Anthony Webb senior, who is buried outside. The other plaque records an annual donation of 40 s. by Richard Pottenger (1690–1739), a Justice of the Peace and Member of Parliament, who was related to Alexander Pope.
Wooden plaque recording a charitable gift by Anthony Webb and Richard Breymore, 1731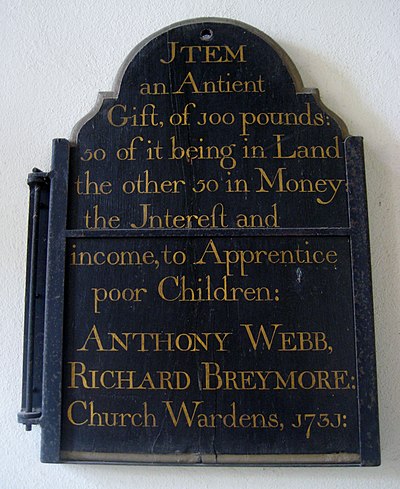 Item
an Antient
Gift, of 100 pounds:
50 of it being in Land
the other 50 in Money:
the Intereſt and
income, to Apprentice
poor Children:
Anthony Webb,
Richard Breymore:
Church Wardens, 1731:
Wooden plaque recording a charitable gift by Richard Pottenger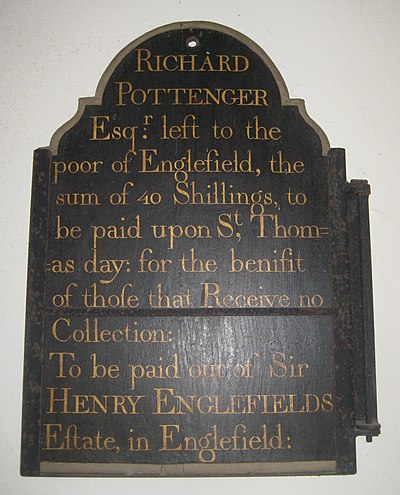 Richard
Pottenger
Esqr left to the
poor of Englefield, the
sum of 40 Shillings, to
be paid upon St. Thom-
-as day: for the benifit
of thoſe that Receive no
Collection:
To be paid out of Sir
Henry Englefields
Eſtate, in Englefield:
To the left of the two wooden plaques is a large black and white marble memorial with an epitaph by John Dryden commemorating John Powlet, 5th Marquess of Winchester (d. 1675), set up by his third wife, Isabel Howard. Powlett was unrelated to the Englefield family, but came into possession of Englefield House in about 1635. According to Daniel Lysons (1762–1834) Powlet acquired Englefield from his second wife, Honora de Burgh, who was the granddaughter of Sir Francis Walsingham, to whom Queen Elizabeth was reputed to have granted the estate after its seizure from Francis Englefield. However, there is no evidence that Walsingham was ever granted Englefield [P. H. Ditchfield and William Page, A History of the County of Berkshire vol. III pp. 405–412], and another theory is that Powlet bought Englefield as a present for Honora de Burgh on their marriage. However he acquired the estate, Powlet retired to Englefield House when he was released from the Tower of London on the Restoration in 1660.
Memorial to John Powlet, 5th Marquess of Winchester (d. 1675)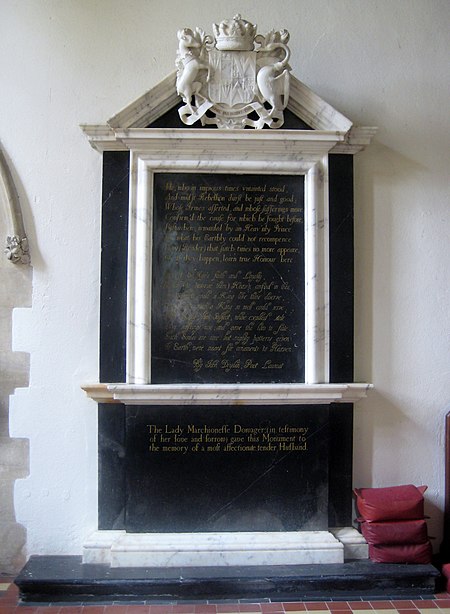 The Lady Marchioneſſe Dowager, (in teſtimony
of her love and ſorrow) gave this Monument to
the memory of a moſt affectionate tender Huſband.
On the south wall is a another imposing, white marble monument commememorating Mary Benyon (d. 1777), set up by her son Richard Benyon in 1777. The memorial is unsigned, but thought to be the work of Robert Taylor (1714-1788) [Arundell Esdaile, English Sculpture in some Berkshire Churches (Part II, 1942) p. 90]. Mary Benyon's connection with Englefield was by marriage to Powlett Wright (d. 1740), the great-grandson of John Powlet, who inherited the estate in 1729.
Memorial for Mary Benyon (d. 1777)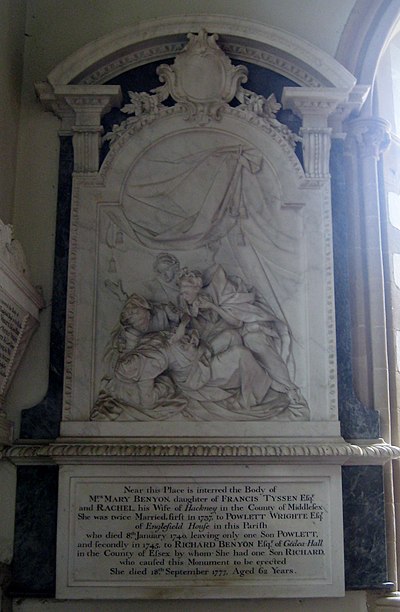 Near this Place is interred the Body of
Mrs Mary Benyon, daughter of Francis Tyssen Eſqr
and Rachel, his wife of Hackney in the County of Middleſex
She was twice Married, firſt in 1737, to Powlett Wrighte Eſqr
of Englefield Houſe in this Pariſh
who died 8th January 1740, leaving only one Son Powlett,
and ſecondly in 1745, to Richard Benyon Eſqr of Gidea-Hall
in the County of Eſsex by whom She had one Son Richard,
who cauſed this Monument to be errected
She died 18th September 1777, Aged 62 Years.
The final monument of note is situated in the nave by the pulpit. This was erected in memory of Richard Benyon de Beauvoir (1770–1854), who inherited Englefield House in 1796 as step grandson of Mary Benyon's husband, Powlett Wright. He was born Richard Benyon, but apparently changed his name to Powlett Wrighte in 1814, and to Richard Benyon de Beauvoir in 1822. After his death Englefield House passed to his nephew, James Herbert Fellowes, who changed his name to Benyon, and is presumably the "affectionate nephew" who raised the monument. To this day Englefield House remains in the hands of the Benyon family.
Memorial for Richard Benyon de Beauvoir (d. 1854)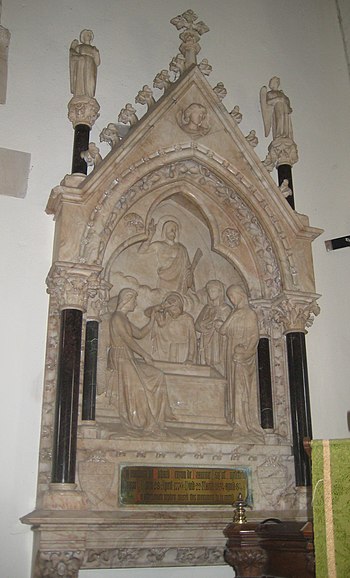 In memoir of Richard Benyon de Beauvoir Esqr of Englefield
House. Born 28 April 1770: Died 22 March 1854 aged 84.
An affectionate nephew caused this monument to be erected
There are certainly other gravestones and monuments of interest that I have overlooked, but there is no more time today. I return back to the office half an hour late, and as I look around at the silent faces I wonder how other people pass their lunch hours.
---
Index of Rambling Antiquarian Blog Posts
Rambling Antiquarian on Google Maps