---
Friday, 22 June 2018
British Library
This week I have been attending the annual meeting of WG2, which is being held in Britain for the first time since 1998. The meeting is being hosted by my alma mater, SOAS, University of London, which I graduated from exactly thirty years ago.
Senate House where the meeting is being held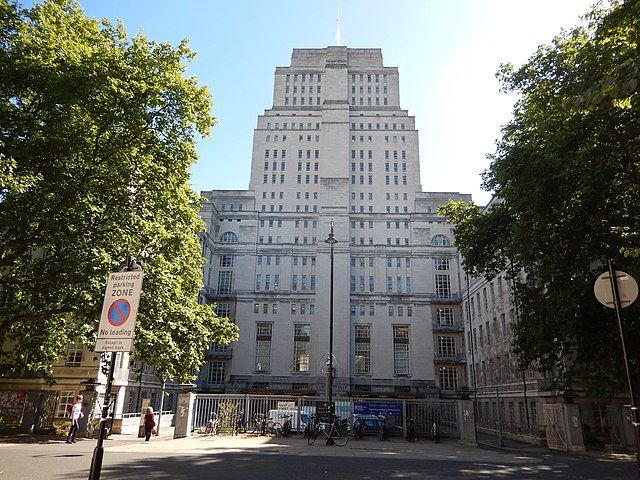 After the meeting finished for the week at 3 pm this afternoon, I had just enough time to walk to the nearby British Library with my friend and colleague Michael Everson in order to consult some medieval Cornish manuscripts.
The British Library on a sunny summer's day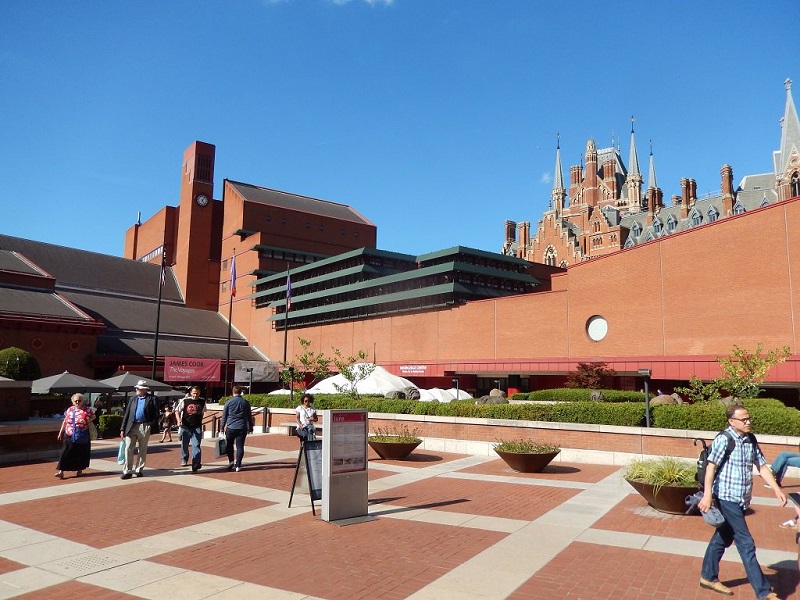 The main object of our attention is a Middle Cornish verse fragment from a Cornish play, dating to the late 14th century, written on the back of a charter held at the British Library (Add. Ch. 19491). This Cornish verse fragment is known as the "Charter Fragment", and is the earliest extant example of a Cornish language manuscript.
Michael Everson looking out of focus with the Charter Fragment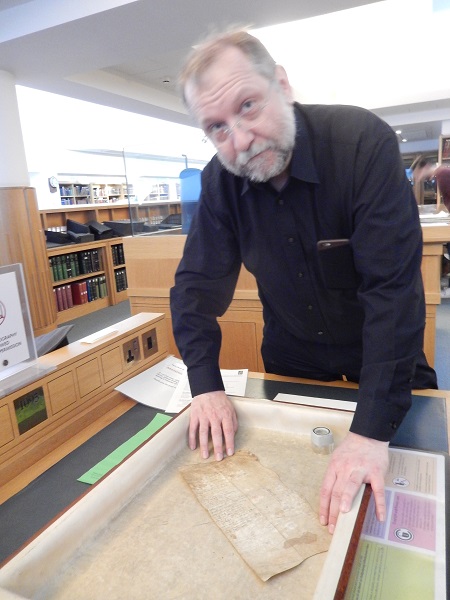 The Charter Fragment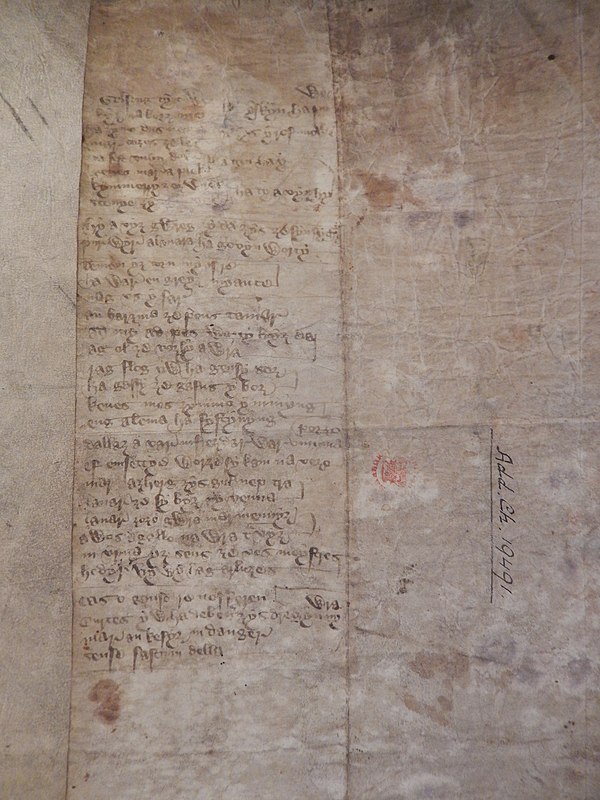 Next we examine a 15th-century illustrated manuscript of the Middle Cornish poem Pascon agan Arluth (The Passion of Our Lord). However, it is not permitted to photograph it, so here is an image of one of the pages from the British Library online catalogue.
Page from Pascon agan Arluth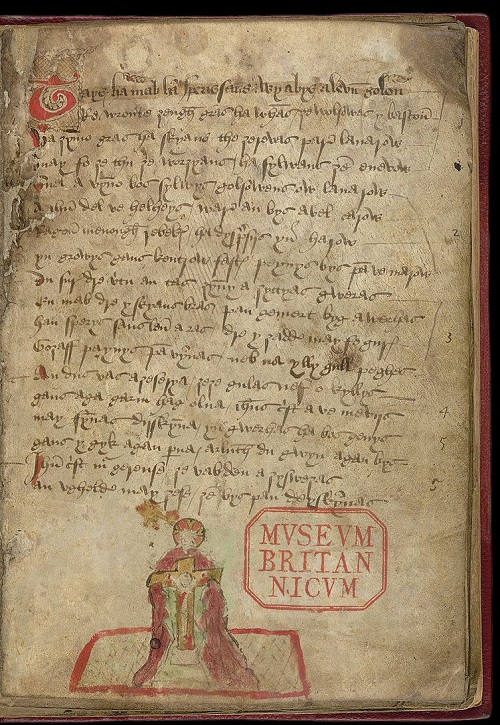 For the remaining time available, we look at a variety of more recent printed books on calligraphy and handwriting styles.
Sample of lettre frizée calligraphy in a 1571 manual of handwriting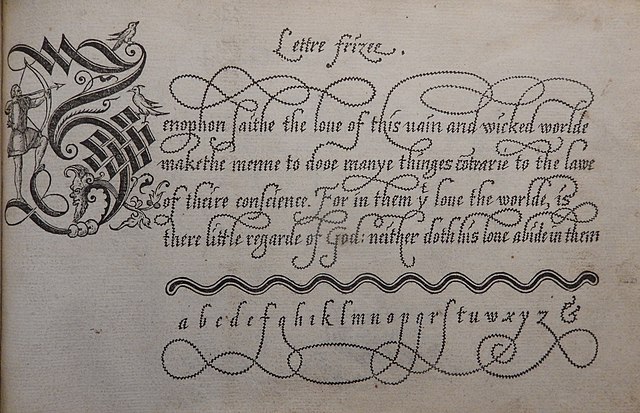 John de Beau Chesne, A Booke Containing divers sortes of hands, as well the English as French secretarie with the Italian, Roman, Chancelry & court hands (London: Thomas Vantrouillier, 1571)
Zeiglographia by Mary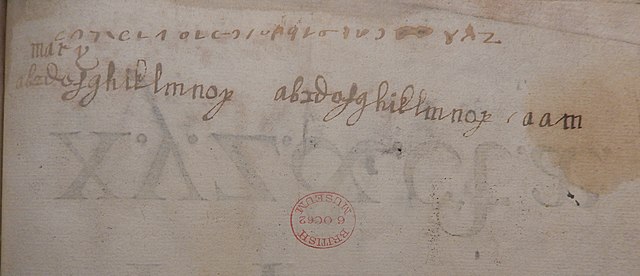 Mary's writing practice on the back of a page in John de Beau Chesne's 1571 book of sample writing hands:
abcdefghiklmnopqrstuwxyz in Thomas Shelton's 1650 Zeiglographia shorthand system
(a few small errors: i is inverted; w is mirrored; and x and y are swapped)
Thomas Shelton's four and twenty zeiglographic letters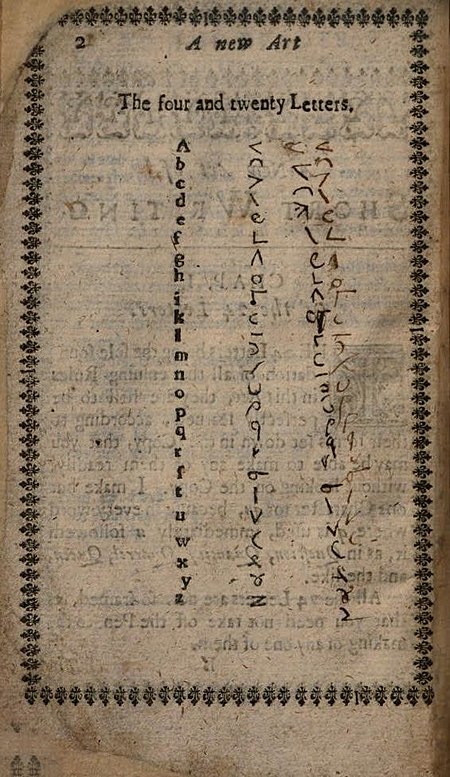 Thomas Shelton, Zeiglographia, or A New art of Short-writing never before published (London, 1659)
(I did not see this book at the British Library today)
We only have a short while before the library closes, and there are other books we want to see, so we agree to come back another day.
---
Monday, 11 February 2019
British Library Revisited
It is more than six months later before I have another opportunity to visit the British Library with Michael Everson. In the morning we go to see the Anglo-Saxons Kingdoms exhibition which is closing next week. A wonderful exhibition that collects together in one place all the Anglo-Saxon documents you could possibly imagine, and so much more besides. Unfortunately no photography is allowed, so I have no photographs to show.
After lunch we head to the Manuscripts Reading Room. First, we take another look at the Charter Fragment.
Looking at the Charter Fragment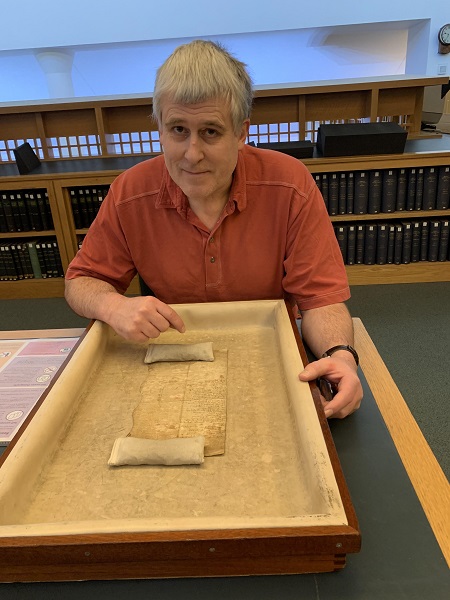 Next we examine two very important early manuscript translations of the Bible into Middle English and Middle Scots:
Egerton 617, a parchment codex which is the earliest complete dateable copy of the Wycliffe Bible, originally owned by Thomas Woodstock, Duke of Gloucester (1355–1397);
Egerton MS 2880, a paper codex which is the unique holograph manuscript of Murdoch Nisbet's translation into Middle Scots of the New Testament from John Purvey's 1388 version of the Wycliffe Bible, made between 1513 and 1539.
However, these two manuscripts may only be consulted in the no-photography-allowed section of the reading room, so I have no photographs of my own to share.
Egerton MS 2880 : Part of f. 105v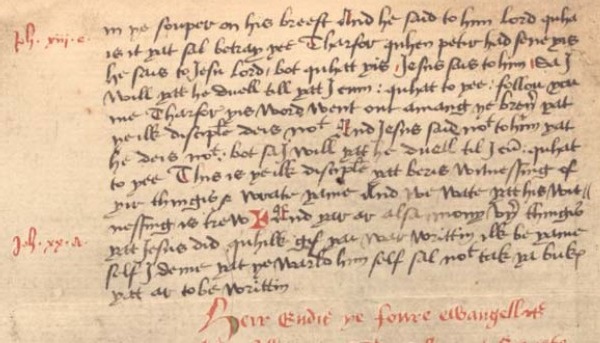 Source: Michael Everson, Proposal to encode three cross symbols in the UCS p. 3
Finally, we take a look at the Cornish British Vocabulary, a long and rather disorderly manuscript vocabulary of Cornish (in a loose sense), written by William Hals (1655–1737) at the end of the 17th century and beginning of the 18th century (the manuscript is undated, but "December 16, 1701" is written on folio 501v). It is quite catholic in its scope, wih an eclectic mixture of vocabulary items from many sources, not at all restricted to the Cornish language.
Looking at the Cornish British Vocabulary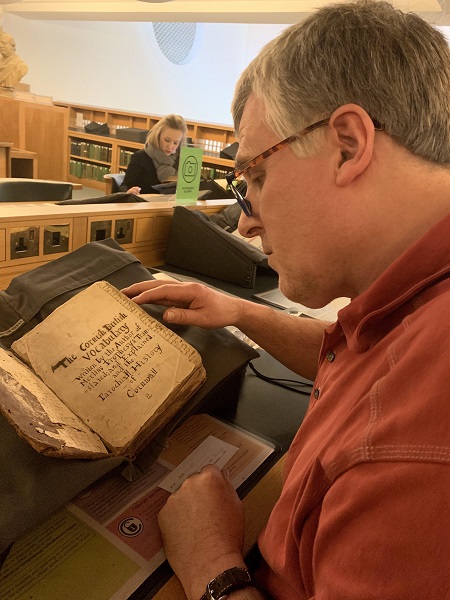 Title page of The Cornish British Vocabulary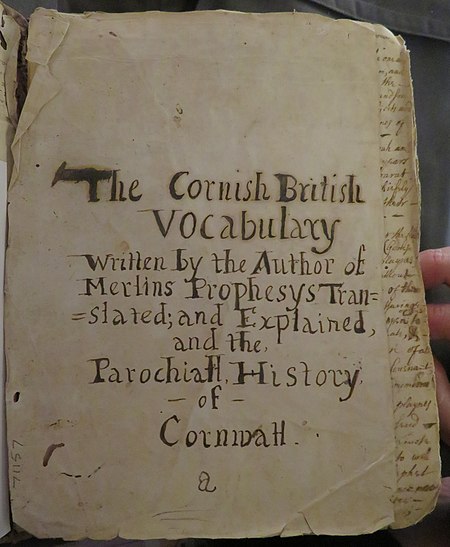 Add. MS 71157: The Cornish British Vocabulary, written by the Author of Merlins Prophesys Translated; and Explained, and the Parochial History of Cornwall
The Cornish British Vocabulary folio 2r : To the Reader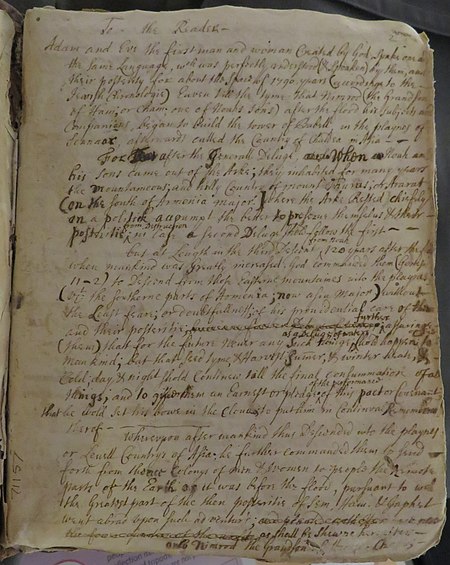 The Cornish British Vocabulary folio 20r : The Restitution of Decay'd Intelligence or An Lhadymer ay Cornoack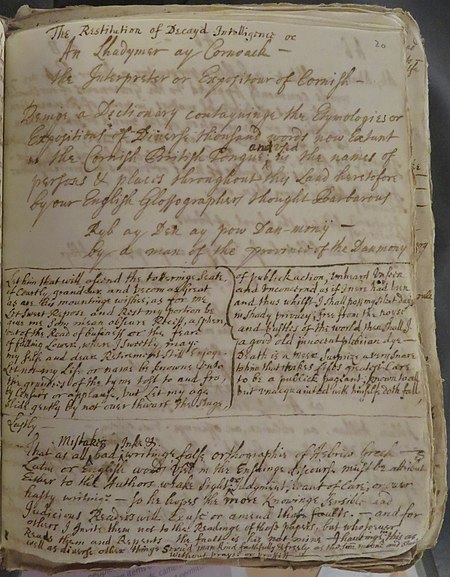 The Cornish British Vocabulary folio 20v : First page of the vocabulary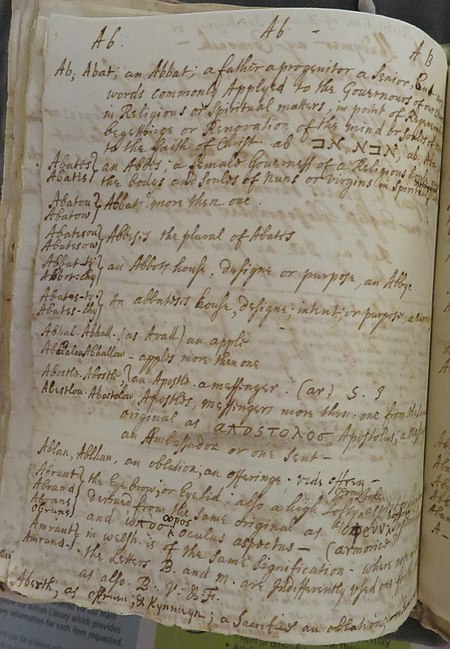 Words starting with "ab": Abat, Abatou (abbot(s); cf. Welsh Abad, Abadau); Abatis, Abatssou (abbess(es); cf. Welsh Abades, Abadesau); Abhal, Abhalou (apples(s); cf. Welsh Afal, Afalau); etc.
The Cornish British Vocabulary folio 511v : Last page of the vocabulary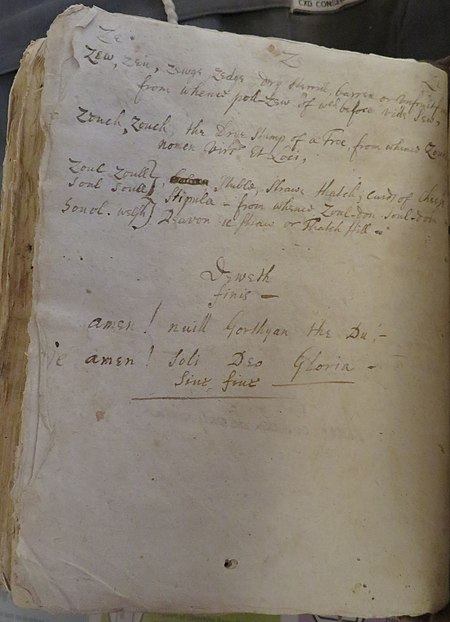 Deweth : finis
amen! nuill Gorthyan the Du
amen! Soli Deo Gloria Sine fine
---
Index of Rambling Antiquarian Blog Posts
Rambling Antiquarian on Google Maps