BabelPad (Unicode Text Editor for Windows)
---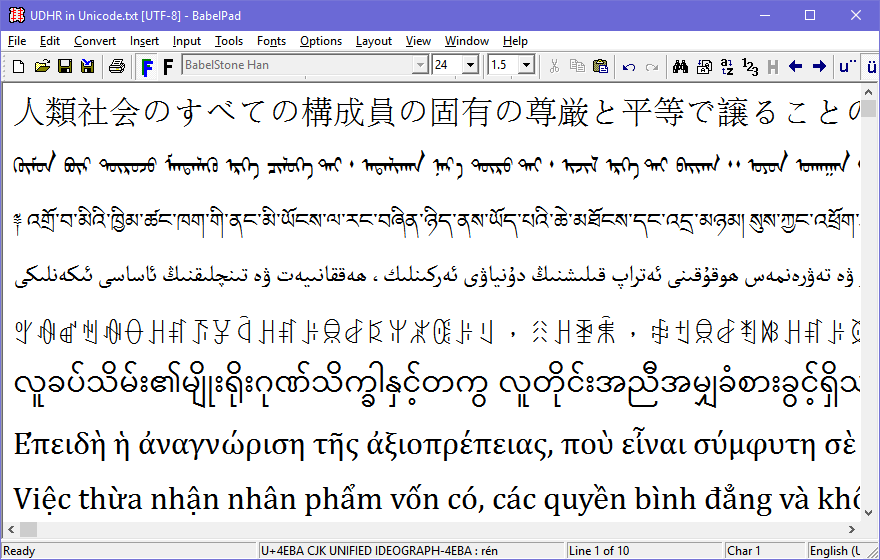 ---
Overview
BabelPad is a free Unicode text editor for Windows that supports the proper rendering of most complex scripts, and allows you to assign different fonts to different scripts in order to facilitate multi-script text editing. It also provides many useful features and special utilities for processing Unicode text. BabelPad supports the most recent version of the Unicode Standard, currently Unicode 12.1 (released May 2019).
---
Summary of Features
These are some of the key features of BabelPad. For more information see the BabelPad Help pages.
Open files in a wide variety of Unicode or legacy encodings; save files in any Unicode encoding (UTF-8, UTF-16, UTF-32) or Unicode-compatible encoding (GB18030), or as ASCII text with escaped Unicode characters.
Able to open and edit very large (multi-megabyte) files.
Standard edit functionality, including drag-and-drop editing, multiple undo/redo, find and replace, and casing functions (for all casing scripts in Unicode).
Left-To-Right (LTR) or Right-To-Left (RTL) page layout; and support for bidirectional text.
Render text with either a single font or a user-defined composite font (where you can define which font to use for each Unicode block).
Render complex Unicode scripts using Microsoft's Uniscribe rendering engine or Universal Shaping Engine (for Windows 10).
Option to render all Unicode characters as individual spacing glyphs (i.e. with no shaping or joining of complex text).
Option to display text in different colours for different Unicode-defined scripts.
Convert Unicode text to/from a variety of escape codes (including converting to/from Unicode character names).
Convert between Unicode characters and code points by pressing Alt-X after a character or at the end of a code point.
Apply Unicode normalization (NFC, NFD, NFKC, NFKD) to text.
Convert Chinese text between traditional and simplified character forms.
Convert Chinese text to Mandarin pinyin readings.
Convert Japanese text between old and new character forms.
Convert between Vietnamese alphabet and

VIQR

.
Convert Extended Wylie Tibetan transliteration into Unicode Tibetan characters.
Convert between Yi (Nuosu) romanization and Unicode syllables.
Sort text according to the Unicode Collation Algorithm (UCA) or the CLDR Collation Algorithm.
Manipulate delimited columns of text (reorder, cut, copy, paste and sort columns delimited by tabs or any user-specified character or string).
Transcode from one list of characters or code points to another list of characters or code points
Batch replace one list of text strings with another list of text strings
Advanced character search utility which allows you to find all Unicode characters that match specified criteria.
Character Map utility to find and enter any Unicode character.
Supports user-defined custom keyboard layouts and text input methods (file format).
Character lookup tools for finding Han (CJKV) characters by radical/stroke or by Mandarin or Cantonese readings.
Character lookup tool for finding Yi (Nuosu) characters by radical/stroke.
Character lookup tool for finding Tangut characters by reference code.
Various tools providing detailed information about Unicode versions, scripts, planes, blocks.
Emoji data tool that lists data about all Unicode-defined emoji, and select single or composite emoji.
Show all Unicode properties for the character at the current cursor position.
Show additional non-Unicode data for Han (CJKV), Tangut and Egyptian Hieroglyph characters.
Unicode code point and character name of character at the current cursor position is displayed on the status bar, with additional information for Han (CJKV) and Tangut characters.
---
Download
BabelPad is free to download and use for personal or commercial purposes. The free-to-download version (there is no other version!) is fully-featured, with no functional or time limitations, no adverts, no in-app purchases, and no malicious features. BabelPad is distributed as a single executable file (no installer). Simply download the zipped file, and then unzip the file BabelPad.exe to the desired location on your computer. BabelPad runs on Windows 2000, XP, Vista, 7, 8, 8.1 and 10.
* BabelPad requires GDI+ (gdiplus.dll), which may not be installed on systems running Windows 2000; if this is the case you may download it directly from Microsoft (here), and copy the file gdiplus.dll to the same location that BabelPad.exe is run from.
The latest version of BabelPad runs on Windows 2000 or later, but an unsupported old version of BabelPad (supporting Unicode 4.1) that runs on Windows 95/98/Me is available for download here.
BabelPad is free to download and use for personal or commercial purposes. However, if you do find BabelPad useful you are welcome to make a voluntary payment via PayPal (a single payment covers both BabelPad and BabelMap). Please note that there is no special commercial version of BabelPad, and the voluntary payment covers use of the free-to-download version which is fully-featured and with no functional or time limitations. Please only make a payment for BabelPad if you understand this.
Alternatively, you may paypal me any amount that you are comfortable with.
---
Windows Defender
As of October 2017 I have received a number of reports that Windows Defender will not allow BabelPad to be downloaded as it claims that it is infected with the Fuerboos virus. I am certain that BabelPad available from babelstone.co.uk is not infected with any virus or malware, and believe that this is a false positive. Searching the internet I can find many reports from October 2017 of Windows Defender falsely reporting the Fuerboos virus on a variety of different downloads. The identification of this virus is based on a heuristic cloud protection rule, and so I do not think that it is reliable.
However, to be sure, I recommend that you scan the downloaded BabelPad.zip and/or BabelPad.exe with anti-virus software to confirm that it is virus-free. Note that some anti-virus software will flag BabelPad as potentially dangerous as it is used by relatively few users, and so has a low reputation as far as the anti-virus software is concerned; if this is the case you should be able to manually whitelist BabelPad by telling the anti-virus software that you trust it.
I apologise for any inconvenience this may cause you, and if you have any doubts about the safety of BabelPad then please do not download it. If you do find any evidence that BabelPad is genuinely infected with a virus please notify me immediately at babelstone@gmail.com.
Sticky Password
If you are running Sticky Password you may find that most of the BabelPad UI is unexpectedly displayed in Chinese, and it is not possible to change back to English. This is caused by Sticky Passport interacting with BabelPad, and the issue can be resolved by adding BabelPad.exe to an exclusion list in Sticky Password's options.
Security
You may have heard that the CIA is able to deploy a "malware-laced" version of BabelPad. Let me first of all emphasize that BabelPad.exe has not been compromised, and there is no suggestion that BabelPad has any malicious functions that can be exploited by the CIA or anyone else. In fact, the CIA exploit does not refer to the version of BabelPad you can download from babelstone.co.uk, but specifically refers to BabelPad Portable, which is a repackaged portable version of BabelPad that is distributed by a third-party, and which is neither endorsed nor supported by me. As BabelPad Portable installs BabelPad.exe in a sub-sub-folder that the user is not intended to access, a malicious actor can surreptitiously plant a fake version of a system dll in the same directory as BabelPad.exe, with the result that when BabelPad is run it loads the fake dll rather than the real one, and the fake dll is then able to carry out nefarious activities on behalf of the person who planted it. See BabelPad Portable Hijack on WikiLeaks for further details of the exploit.
As the ordinary version of BabelPad available from babelstone.co.uk is distributed as a single .exe file with no installer, it is much harder for a malicious actor to trick BabelPad into loading a fake system dll. BabelPad is distributed as a zip file named BabelPad.zip which contains only a single file, BabelPad.exe, which the user unzips and puts in any directory they like. To be safe, follow these simple rules:
Only download BabelPad from babelstone.co.uk. Do not download from any other website or accept BabelPad distributed on physical media (such as CD or USB stick) unless you are 100% certain that the source is reliable.
Do not accept BabelPad.zip if it contains any files other than BabelPad.exe, especially if it contains any file with a dll extension.
Unzip BabelPad to its own directory (e.g. C:\Users\Me\Documents\BabelPad), and regularly check that no other files have mysteriously appeared in that directory.
---