BabelStone Fonts
---
BabelStone Runic Elder Futhark
Description
BabelStone Runic Elder Futhark is a Unicode Runic font covering the 24 runes of the Common Germanic fuþark, also known as the Elder Fuþark. This font also includes variant forms for most of these runes using unofficial variation sequences.
This font does not map runic glyphs to Latin letters like most fonts, but uses the special Runic characters defined in the Unicode Standard. See How to Input Unicode Ogham for suggestions on how to input Unicode characters (just substitute "Runic" for "Ogham" on that page).
---
Samples
BabelStone Runic Elder Futhark (24 points)

---
Character Repertoire
The tables below render each character using BabelStone Runic Elder Futhark, either using the font installed on your local machine or using WOFF fonts if the font is not installed on your local machine.
Variant glyph forms for most of the runes are accessible as unofficial variation sequences (which do not conform to the Unicode Standard), using VS2 through VS6 (VS1 can be used to explicitly access the default glyph). For example, the rounded variant of 16C3 ᛃ is accessible as <16C3 FE01> (16C3 + VS1).
Runic [16A0..16FF]
Code Point
Character Name
Transcription
Character
Variants
VS2
VS3
VS4
16A0
RUNIC LETTER FEHU FEOH FE F
f

ᚠ

ᚠ︁

16A2
RUNIC LETTER URUZ UR U
u

ᚢ

ᚢ︁

ᚢ︂

ᚢ︃

16A6
RUNIC LETTER THURISAZ THURS THORN
th

ᚦ

ᚦ︁

16A8
RUNIC LETTER ANSUZ A
a

ᚨ

ᚨ︁

16B1
RUNIC LETTER RAIDO RAD REID R
r

ᚱ

ᚱ︁

16B2
RUNIC LETTER KAUNA
k

ᚲ

ᚲ︁

16B7
RUNIC LETTER GEBO GYFU G
g

ᚷ

16B9
RUNIC LETTER WUNJO WYNN W
w

ᚹ

ᚹ︁

16BA
RUNIC LETTER HAGLAZ H
h

ᚺ

ᚺ︁

ᚺ︂

ᚺ︃

16BE
RUNIC LETTER NAUDIZ NYD NAUD N
n

ᚾ

16C1
RUNIC LETTER ISAZ IS ISS I
i

ᛁ

16C3
RUNIC LETTER JERAN J
j

ᛃ

ᛃ︁

ᛃ︂

ᛃ︃

16C7
RUNIC LETTER IWAZ EOH
ė

ᛇ

16C8
RUNIC LETTER PERTHO PEORTH P
p

ᛈ

ᛈ︁

ᛈ︂

16C9
RUNIC LETTER ALGIZ EOLHX
z

ᛉ

ᛉ︁

ᛉ︂

ᛉ︃

16CA
RUNIC LETTER SOWILO S
s

ᛊ

ᛊ︁

ᛊ︂

16CF
RUNIC LETTER TIWAZ TIR TYR T
t

ᛏ

16D2
RUNIC LETTER BERKANAN BEORC BJARKAN B
ƀ

ᛒ

ᛒ︁

ᛒ︂

16D6
RUNIC LETTER EHWAZ EH E
e

ᛖ

ᛖ︁

16D7
RUNIC LETTER MANNAZ MAN M
m

ᛗ

ᛗ︁

16DA
RUNIC LETTER LAUKAZ LAGU LOGR L
l

ᛚ

ᛚ︁

16DC
RUNIC LETTER INGWAZ
ŋ

ᛜ

ᛜ︁

16DE
RUNIC LETTER DAGAZ DAEG D
đ

ᛞ

16DF
RUNIC LETTER OTHALAN ETHEL O
o

ᛟ

ᛟ︁

16EB
RUNIC SINGLE PUNCTUATION

᛫

16EC
RUNIC MULTIPLE PUNCTUATION

᛬

16ED
RUNIC CROSS PUNCTUATION

᛭
---
Ligatures
The table below lists ZWJ ligatures for bind runes that are currently supported in this font. Additional ligatures will be added on request.
| Ligature | Code Points | Glyph |
| --- | --- | --- |
| A-Z | 16A8 ZWJ 16C9 | ᚨ‍ᛉ |
| G-A | 16B7 ZWJ 16A8 | ᚷ‍ᚨ |
| H-A | 16BA ZWJ 16A8 | ᚺ‍ᚨ |
| H-E | 16BA ZWJ 16D6 | ᚺ‍ᛖ |
| I-NG | 16C1 ZWJ 16DC | ᛁ‍ᛜ |
| E-R | 16D6 ZWJ 16B1 | ᛖ‍ᚱ |
| E-M | 16D6 ZWJ 16D7 | ᛖ‍ᛗ |
---
Mirrored Glyphs for Right-to-Left Text
Runic inscriptions mostly read left-to-right (LTR), but sometimes read right-to-left (RTL) or are sometimes written boustrophedon (left-to-right and right-to-left in alternate lines). Runic text set using BabelStone Elder Futhark can be displayed in right-to-left order with mirrored glyphs by putting U+202D (LEFT-TO-RIGHT OVERRIDE [RLO]) at the start of the text and putting U+202C (POP DIRECTIONAL FORMATTING [PDF]) at the end of the text (PDF is not required at the end of a line, as the directionality of the text is reset at a new line, but for the same reason RLO is required at the start of each line of RTL text). This works as expected in Firefox and Chrome browsers, but in IE11 and Edge browsers the text is reordered from right to left, but the mirrored glyphs are not used.
Drawing of the Kalleby Rune Stone in La Suède préhistorique (1874) by Oscar Montelius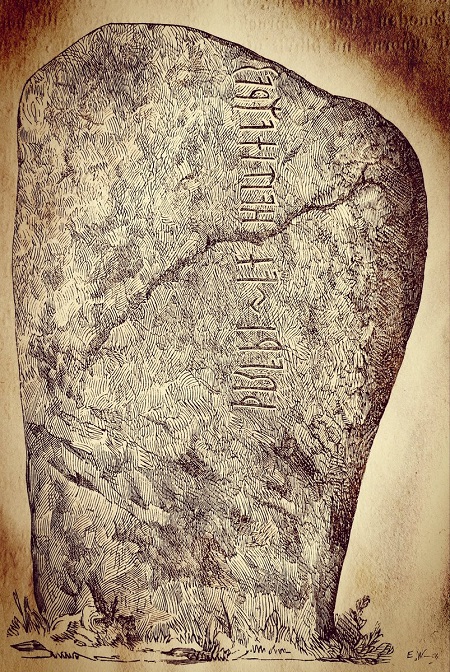 ‮ᚦᚱᚨᚹᛁᛃᚨᚾ ᚺᚨᛁᛏᛁᚾᚨᛉ ᚹᚨᛊ‬
<RLO> ÞRAWIJAN HAITINAZ WAS >PDF<
(ÞRAWIJAN ᚦᚱᚨᚹᛁᛃᚨᚾ should be read as ÞRAWIŊAN ᚦᚱᚨᚹᛁᛜᚨᚾ)
"Thrawingan was named"
In Firefox the above example is rendered as:

---
OpenType Features
Script
Language
Features
Explanation
Runic <runr>
Default <dflt>
Glyph Composition Decomposition <ccmp>
For producing ligatured "bind runes".
Right-to-Left Mirrored Forms <rtlm>
Mirrored glyphs for right-to-left layout.
---
Version History
| Version | Date | Notes |
| --- | --- | --- |
| 3.000 | 2018-02-11 | Initial release |
| 3.001 | 2018-02-11 | Added three ligatures and additional variants |
| 3.002 | 2018-02-15 | Minor changes |
| 3.003 | 2018-02-17 | Fix ligatures; remove mirrored variants; add OpenType right-to-left mirrored forms. |
| 3.004 | 2018-02-18 | Add more ligatures |
| 3.005 | 2022-03-14 | Added 'Runr' tag for design languages and supported languages of the meta table. |
---
Download
BabelStone Runic Elder Futhark is licensed under the SIL Open Font License 1.1, which means you are free to use it for personal or commercial purposes, and to redistribute it by itself or as part of a free or commercial software package, just as long as you do not sell the font on its own. The license also allows you to modify the font in any way you like, as long as the modified font does not use "BabelStone" in its name. Please read the license for details.
For use on your computer or mobile device please download and install the TTF file. The WOFF and WOFF2 files are for web use only, and are not required by most users.
A WOFF format web font version of BabelStone Runic Elder Futhark is available here.
---
BabelStone Runic | BabelStone Younger Futhark Runes | BabelStone Runic Staveless | BabelStone Runic Dotted | BabelStone Anglo-Saxon Runes | BabelStone Moon Runes